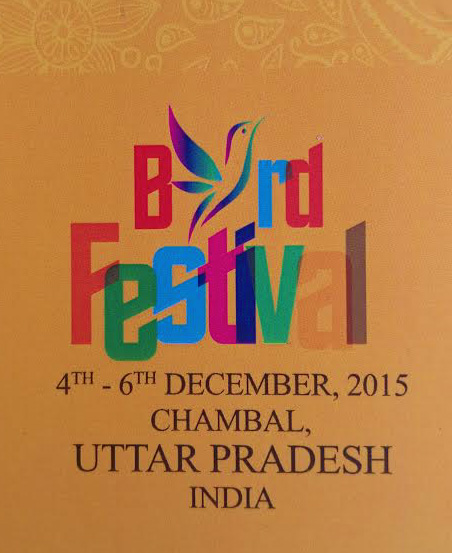 UP Bird Festival Chambal 4-6 Dec 2015
This is an first of its kind initiative by the Chief Minister of Uttar Pradesh Shri Akhilesh Yadav to hold a Bird Fair in Uttar Pradesh. UP Eco Tourism Department will be taking charge of the event. The festival will take place on the grounds of the Chambal Safari Lodge. The Chief Minister will inaugurate the function on 4 December 2015. There will be talks by prominent ornithologist from around the globe. Workshops by professional photographers, art shows by renowned artists and a bird ringing station. Early morning would be for birdwatching in the nearby forest or doing a boat safari on the Chambal river followed by talks/workshops during the day.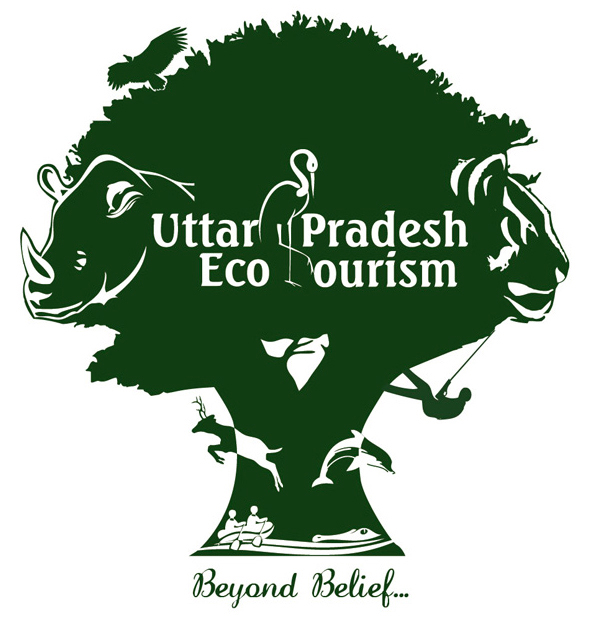 4th December
6 am to 10 am: Field trips to National Chambal Sanctuary, Sarus Crane Wetlands Etawah and Blackbuck Safari
10.30 am Inauguration: By Principal Secretary Forest Mr. Sanjiv Saran
11 am – Carol Inskipp: Nationally threatened bird species of Nepal and India.
Chair: Bikram Grewal
12 pm – Rajeev Mathew:  'Raptor field identification – Accipitridae and Falconeidae
Chair: Ramit Singal
1 pm – 2 pm: Break for lunch
2 pm – Dr Promod Patil: Bustards in decline
Chair: Jim Lawrence
3 pm – Dr Asad Rahmani; Threatened Birds of Uttar Pradesh
Chair: Dr BC Chaudhary
4 pm – Dr Martin Kelsey: "A love affair with warblers"
Chair: Garima Bhatia
5 pm – Nigel Redman: Chats of the Indian Subcontinent 
Chair: Panchami Manoo Ukil
5th December
6am to 9am: Field trips to National Chambal Sanctuary, Sarus Crane Wetlands Etawah and Blackbuck Safari
11 am: Arrival of Honourable Chief Minister Shri Akhilesh Yadav
11.15 am – 11.45 am: Walk through of the Festival Marquees
11.45 am: Welcome By Principal Secretary Forest Mr. Sanjiv Saran
12.00 pm – 1.00 pm:
Introductory talks by Tim Appleton and Jim Lawrence
Birdwatching areas in Uttar Pradesh by Mr. Pawan Kumar, IFS
Wildlife Tourism in UP by Secretary Tourism Mr. Amrit Abhijat
Unveiling of book – Birds of UP
Launch of book – Sarus Cranes
Signing of IOC with BirdLife International
CMs Address
Thanks giving address
1 pm – 2 pm: Break for Lunch
2 pm – Tim Inskipp: The history of bird species mapping in the Indian subcontinent.
Chair: Mike Prince
3 pm – Dr Gopi Sundar: The wetland and waterbirds of Uttar Pradesh
Chair: Praveen Rao
4 pm – Dr Per Alstrom: How to identify Indian Pipits
Chair: Abhijeet Menon-Sen
5 pm – Dr Dhananjai Mohan: Katernia Ghat as a birding Destination
Chair: Shri SK Upadhyay
6th December:
6 am to 10 am: Field trips to National Chambal Sanctuary, Sarus Crane Wetlands Etawah and Blackbuck Safari
10.30 am Dr Pamela Rasmussen: The Mystery of the Forest Owlet
Chair: Latika Nath
11.30 am – Anand Arya: Sarus Hatchlings – Through Eyes & Lens of a Birder
Chair: Dr Gopi Sundar
12.15 pm – Pratap Singh: Bird Song in India
Chair: Dr Dhananjai Mohan
1pm – 2pm: Break for Lunch
2 pm – Jim Lawrence: Birdlife International and India
Chair: Ian Barber
3 pm – Ben King: Reminiscences of a veteran birder
Chair: Avijeet Sarkel
4 pm – Ian Barber: Role of RSPB in India
Chair: Dr Asad Rahmani
5 pm – Bikram Grewal: The Very Very Very Difficult Bird Quiz
Photo Workshops:
5th December
10 am – 1 pm – Craig Jones
2 pm – 5 pm – Giri Cavale
Art Workshops:
5th December
10 am – 1 pm – Jackie Garner: A demonstration on drawing birds
2 pm – 5 pm – Dr. Pete Marshall: "Drawn to the Wild – Nature's Inspiration"
ON ALL THREE DAYS: 10 am Digiscoping Workshop – Nanette Roland: Leica Sport optics Experience nature with unmatched intensity
On all three days
Bird Ringing Station (live):
Dr Balachandran 
7th December:
6 am to 11.30 am: Field trips to National Chambal Sanctuary, Sarus Crane Wetlands Etawah and Blackbuck Safari
12 pm: Delegates depart for Delhi via the Taj Mahal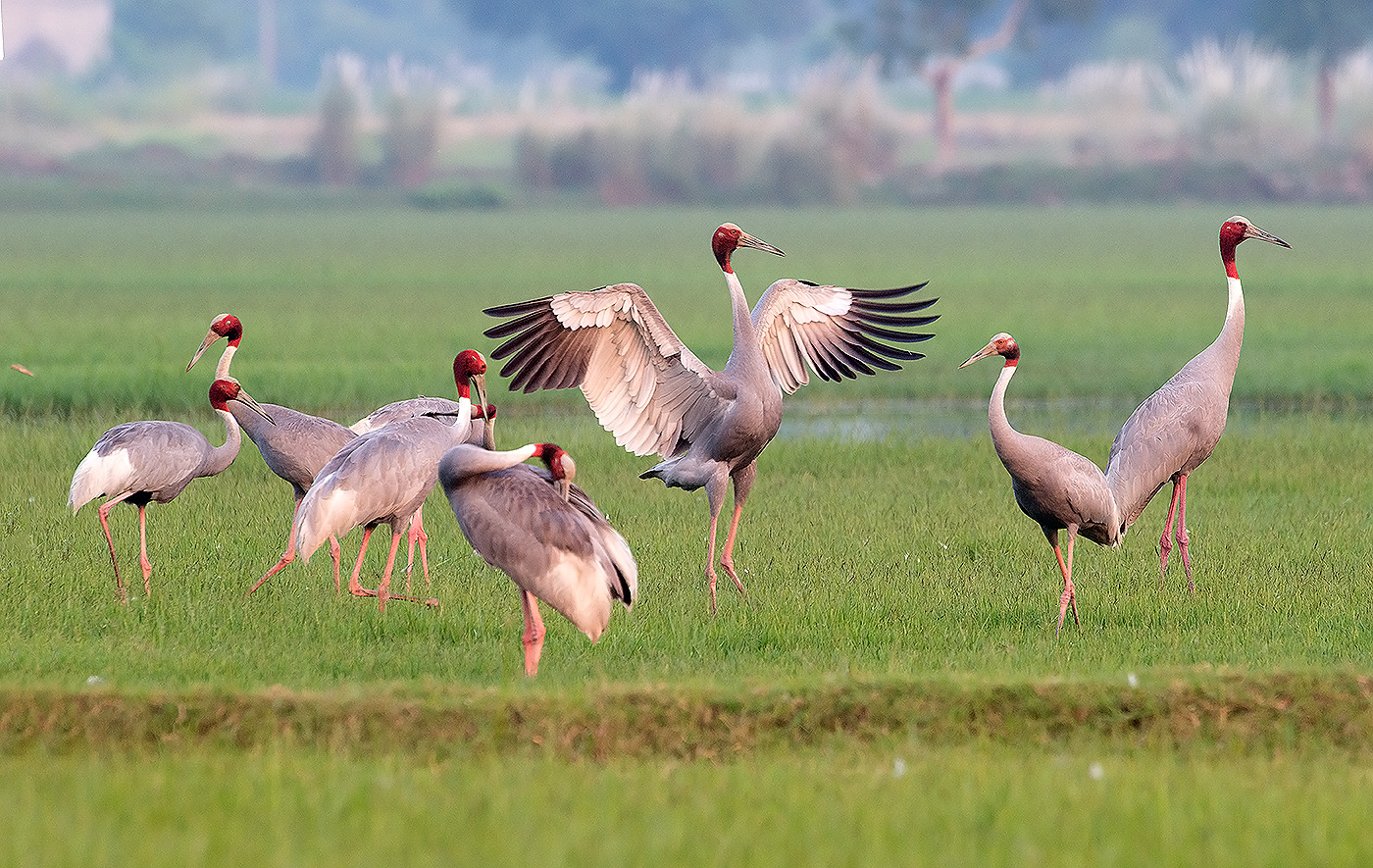 Birding in Uttar Pradesh
Uttar Pradesh, the largest state in India is bestowed with unique natural resources to cater for both resident and migratory birds besides a wide variety of animals and plants. It is one of the finest states in India in terms of variety of its bird life. The rivers like Ganges, Yamuna, Rapti and Gandak which originate in the Himalayas traverse longest distance of their journey in the state. The meandering river system, the ox bow lakes formed and other wetlands provide a magnificent natural habitat for birds. Apart from this the sub-montane regions between Himalayas and plains, the alluvial Gangetic plains and the southern hills and plateaus provide the best ecotones to sustain the birdlife. It is an ode to the resilience, benevolence, tolerance and conservation consciousness of the people of the state that such diverse plant and animal populations continue to coexist with humans. Migrating birds flying over 5000 kilometres above 8500 metres high from regions like Europe, Tibet, Siberia and China make Uttar Pradesh their home during months starting from October to February. These wetlands are covered by a layer of migratory birds in search of food. It is estimated that out of 1300 species of birds found in India, Uttar Pradesh caters to over 500 species. 13 species which are categorised as globally threatened and near threatened species like Slender Billed Vulture, Bengal Florican, Black Bellied Tern, Sarus Crane, Indian Skimmer, Black Necked Stork etc., find better habitat conditions in Uttar Pradesh.
Important Bird Areas
The state has three "Bird Circuits" to encourage national as well as international bird tourism. A network of Forest Rest Houses, private hotels and motels, secure transport and a well spread road network along with professional tour operators offer convenient access to the protected areas.
The bird sanctuaries within these "Bird Circuits" are:
Sursarovar Wild Life Sanctuary A large artificial wetland at just 20 kilometres from Agra it boasts of endangered Dartars, Painted Stork and Oriental White Ibis besides visitors like Asian Openbill-Stork, Gadwall, Common Teal, Common Ringed Plover and River Lapwing.
Okhla Bird Sanctuary It is home to an astounding over 300 bird species in its area. Leucistic Coot, Common Coots are occasional visitors along with vulnerable bird species from the family of Baikal Teal, Baer's Pochard, Sarus Crane, Sociable Lapwing and Indian Skimmer.
Sarsai Nawar/National Chambal Sanctuaries The home to the fabled Gharial and the Indian Skimmer. Chambal trip provides for some spectacular vistas through boat safaris.
Patna Wild Life Sanctuary Home to over 200 species of migratory birds, it is in the Etah district in Uttar Pradesh. Winter has the small lake dotted with waterfowl. Baer's Duck is often found here.
Saman Wild Life Sanctuary Situated in western Uttar Pradesh, tourists here can sight Sarus Crane, Greater Spotted Eagle, Common Teal, Lesser Whistling Duck, Black-necked Stork, Northern Pintail, and Great White Pelican.
Lakhbahoshi Bird Sanctuary The bird sanctuary is made up of two shallow jheels near the villages of Lakh and Bahosi (about 4 kms apart). The winter sees the lakes full of migratory waterfowls, Painted Storks, Pelicans, Herons, Pochards.
Nawabganj Bird Sanctuary Situated on the Highway between Lucknow & Kanpur it's easily accessible. It is one of the important areas for the henrys that come up during the monsoon besides Cotton Teal, Pintail, Greylag Goose, Gadwall, Shoveller and Mallard.
Sandi Bird Sanctuary Sandi Bird Sanctuary is located at a distance of 19 km on Hardoi-Sandi Road. Asian Openbills, Painted Storks and the 3 species of Egrets make a big heronry here during the rainy season.
Dudhwa Tiger Reserve Dudhwa National park, Katerniyaghat Wildlife Sanctuary and Kishanpur Wildlife Sanctuary together make up the Dudhwa Tiger Reserve. It's one of the finest parks in India and is the only home to the One-Horned Rhinoceros in Northern India besides Swamp Deer as also the Royal Bengal Tiger. It is also the habitat of Swamp Francolin, Spoonbill, Great Slaty Woodpecker, Kingfishers, Barbets, Vultures, Pied Kingfisher and Bengal Florican.
Sohelwa Wild Life Sanctuary Located in Shravasti, Balrampur and Gonda districts of Uttar Pradesh, the sanctuary is home to Sal, Sheesham, Sagaun (Teak) and a host of diversified tree species. The fauna found in the sanctuary includes leopard, tiger, bear, boar and variety of forest birds.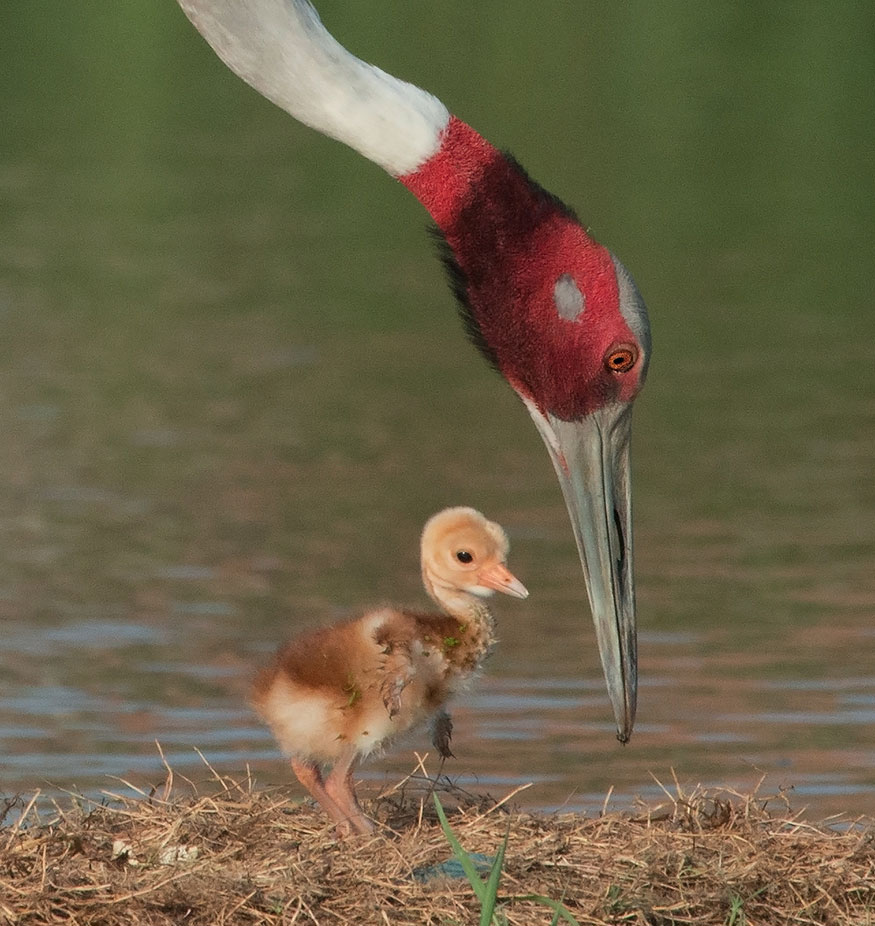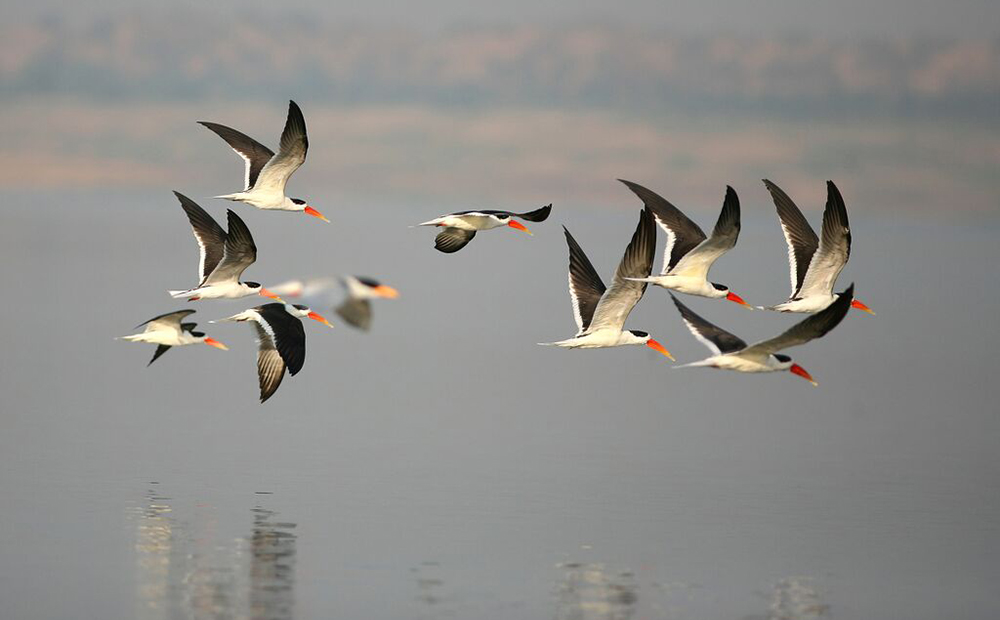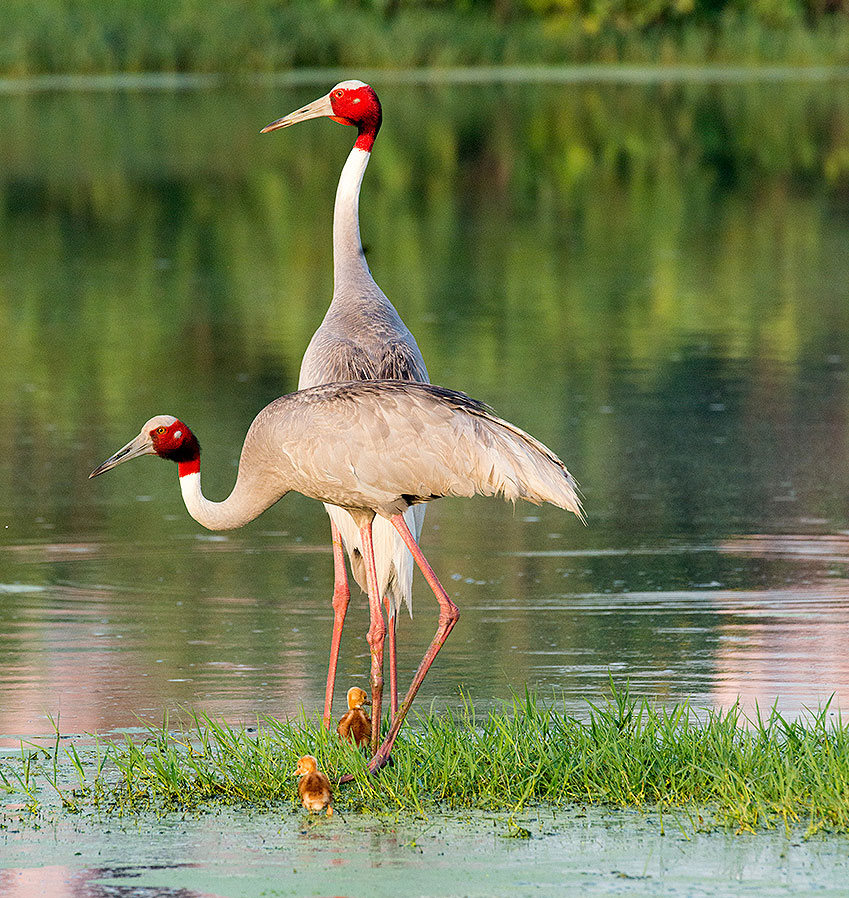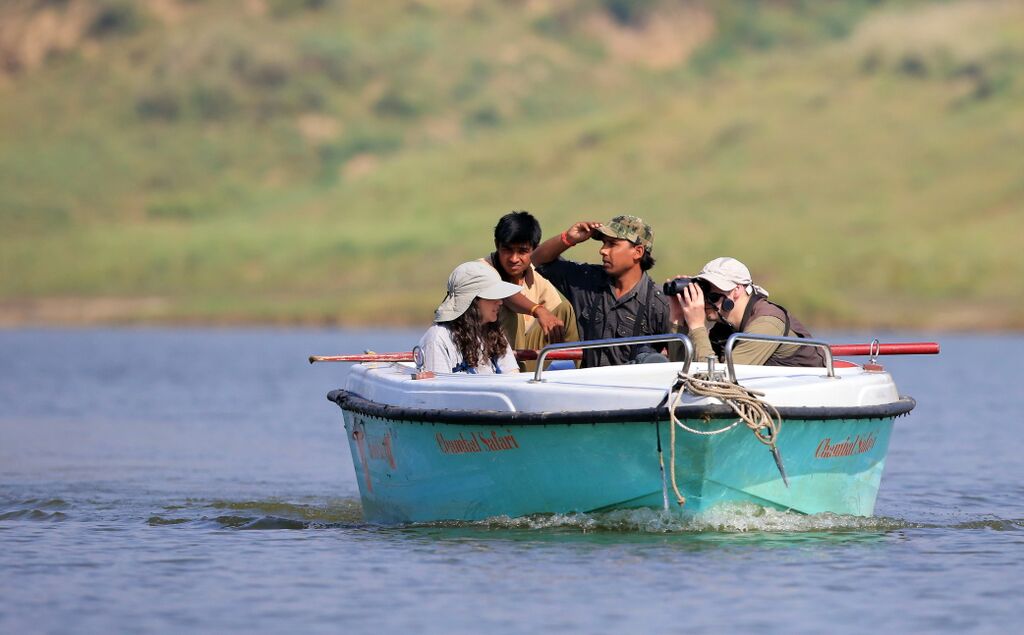 Some images below from the UP Bird Festival, Chambal 2015