Pushkar Fair
Pushkar Camel Fair / Pushkar Cattle Fair
In 2018, the official Pushkar Fair dates are November 15-23.
In 2019, the official Pushkar Fair dates are November 4-12.
The Pushkar Fair originally began as an ode to Lord Brahma, the creator of the universe. Pushkar Camel Fair soon become the biggest camel fair in the world. It is visited by pilgrims, cattle farmers and lots of tourists each year. An entire tented city is created next to the lake at Pushkar and is the venue for the festivities. The Pushkar Fair is the venue for races, dances, singing, cattle trading and sale – all this makes for fantastic photo ops for the photographer.
There is a romantic image of India – all heat and dust and vibrant colours; beautiful gypsy women with kohl-rimmed eyes and flared skirts gracefully dancing in the dessert dunes; proud men with multi-hued turbans and thick moustaches leading herds of camels; evening prayers and chants and heads bowed in devotion as the Gods are invited to walk among men for a few special days….. all these snapshots come gloriously alive every year at the Pushkar Mela, an animal fair combined with a religious festival honouring the Creator of the Universe.
Come November and the small sleepy town of Pushkar awakens to the thundering hooves of majestic Marwar thoroughbred horses, the soft pad of thousands of camels, the bleating of goats and sheep and the lowing of cattle as nomadic tribesmen and villagers congregate at the animal trade fair. Devout Hindus come to perform special prayers during these auspicious days at one of the main temples dedicated to the lord of Creation, Brahma. It quadruples in size as tented cities arise to accommodate the visitors.
 And then the fun begins! Everyday there are competitions – camel decoration, camel dancing, horse racing, longest moustache, turban-tying, wall decorating, kabbadi. Every evening the ghats resound to the sounds of drums and traditional music. On Kartik Poornima, the streets are full of floats and tableaus and dancing devotees showering rose petals as they worship the Hindu Holy Trinity. There is a sensory overload as you try to take in the sounds, sights, aromas, tastes and feel of India.
Experience Pushkar, experience quintessential India.
We recommend at least 5 – 6 nights at the Pushkar Cattle Fair to capture it in all its glory. There are different activities held each day.
Along with Pushkar you could visit the palaces of Udaipur, the temples at Ranakpur and the forts of Jodhpur. From Jodhpur its a 5 hours drive to the fair grounds. On the way back from the fair you will come via Jaipur. From Jaipur you have the option of visiting the Ranthambhore Tiger Reserve and do a few safaris for Tiger Tracking in a mini bus with an open top. You could also visit Bharatpur Bird Sanctuary for a night – carry on to Agra, see the Taj Mahal. From here Delhi is a 4 hours drive. Delhi too has its share of Mughal Architecture and other sights.
There are tremendous photo opportunities at this site. the Pushkar Mela is a great place for conducting Photo Workshops.
Contact our specialist now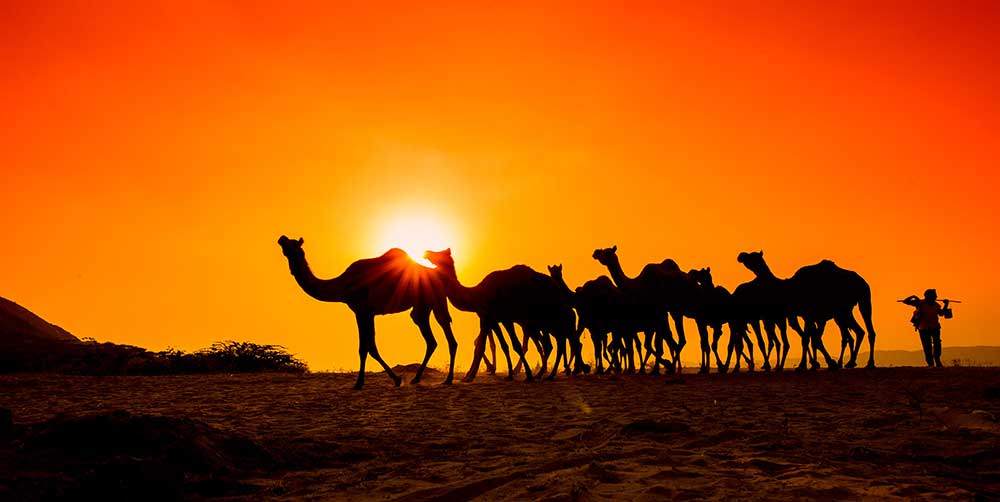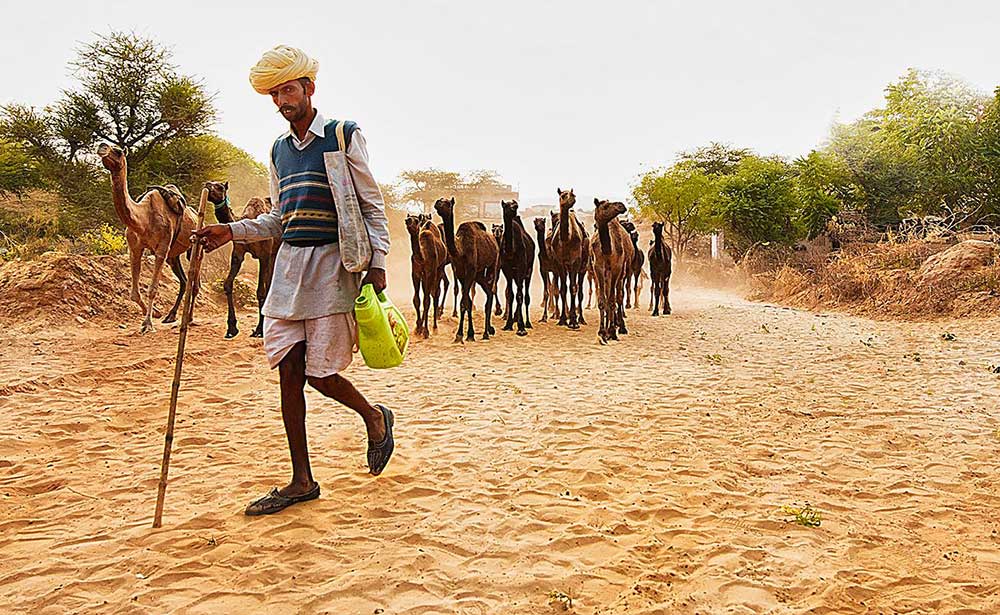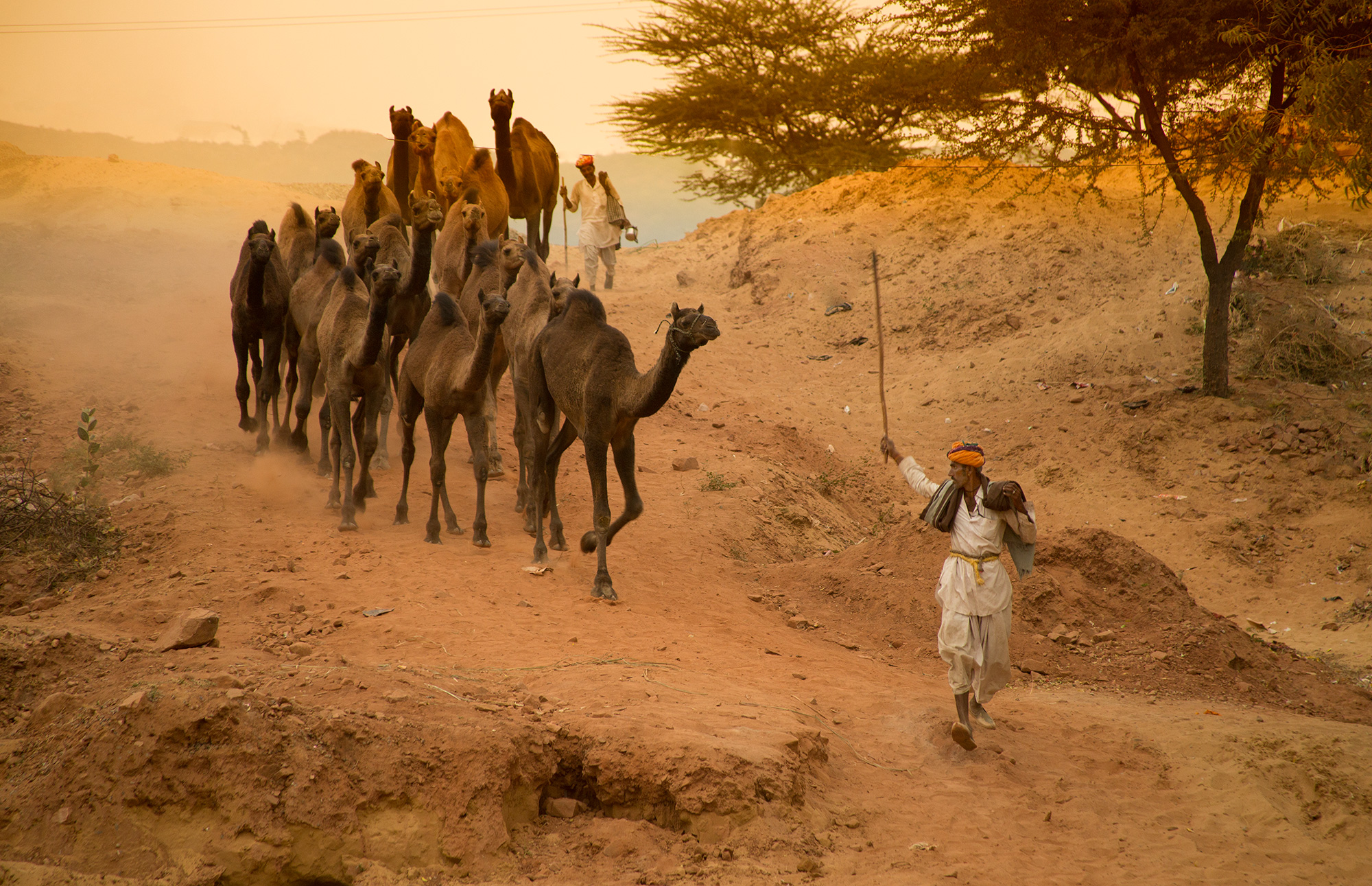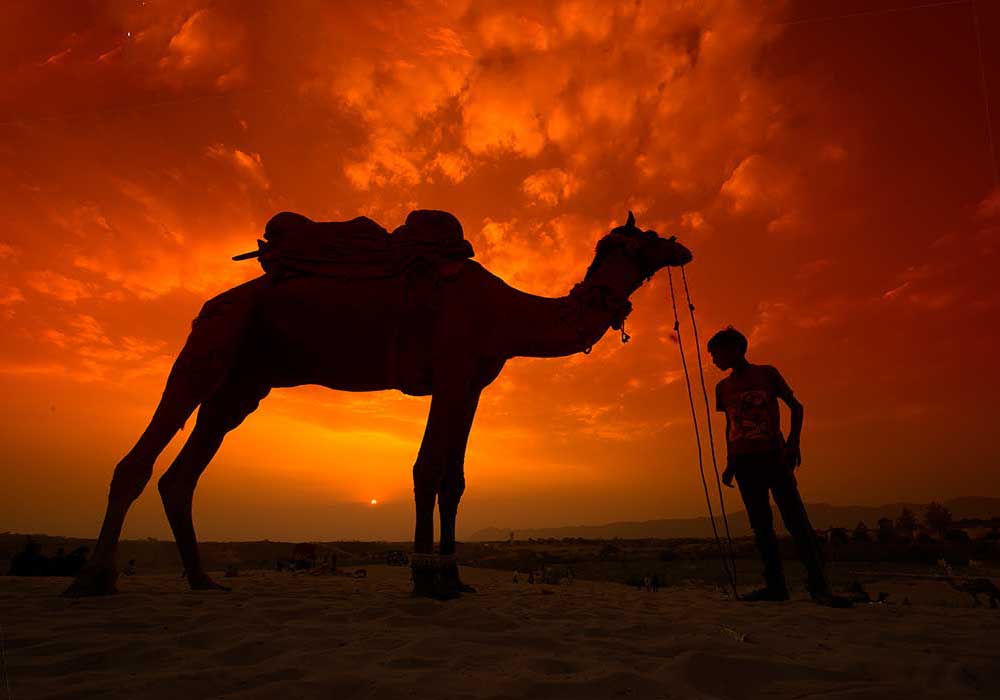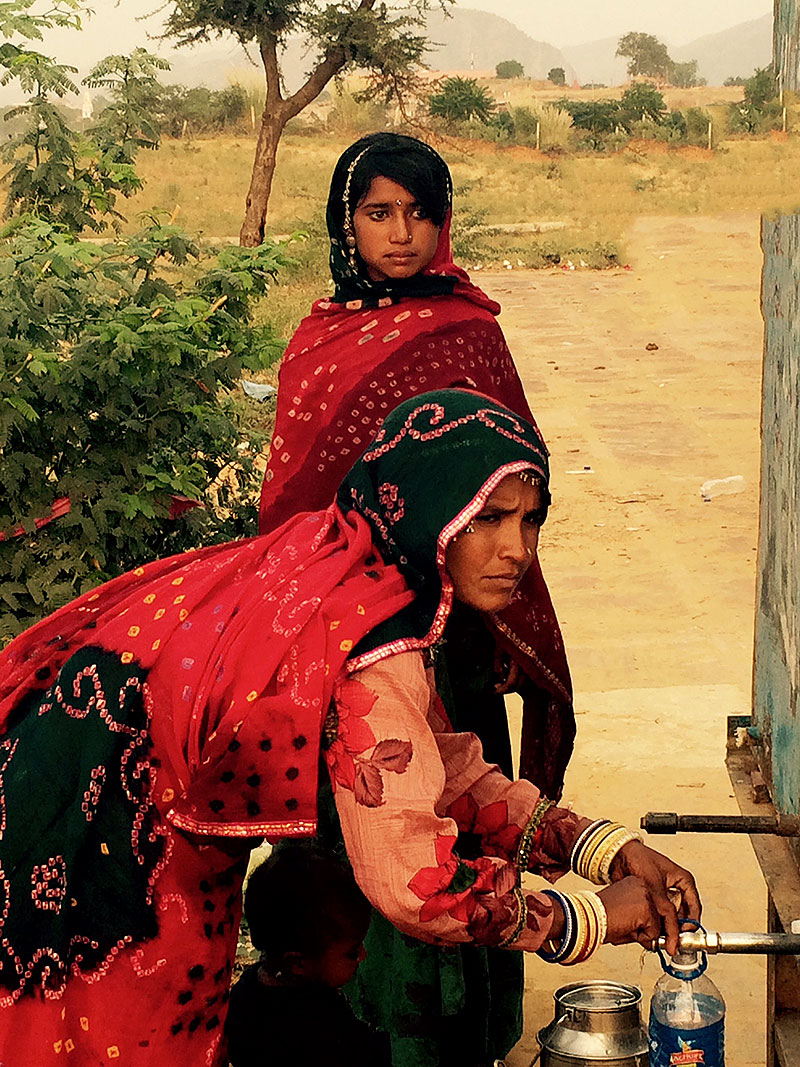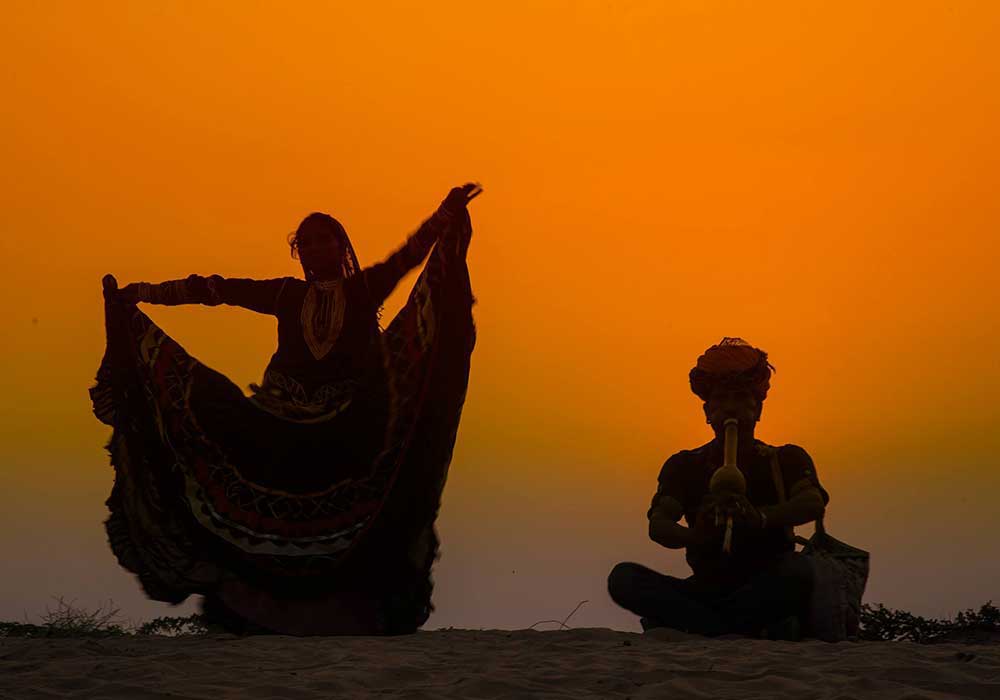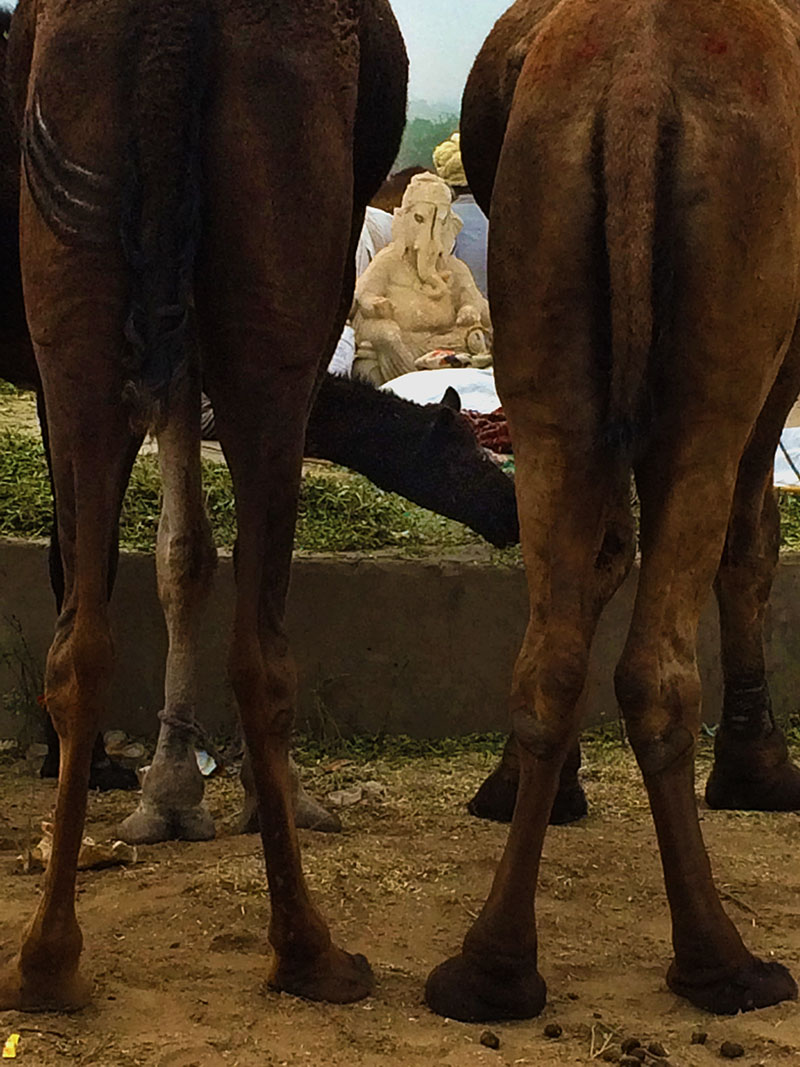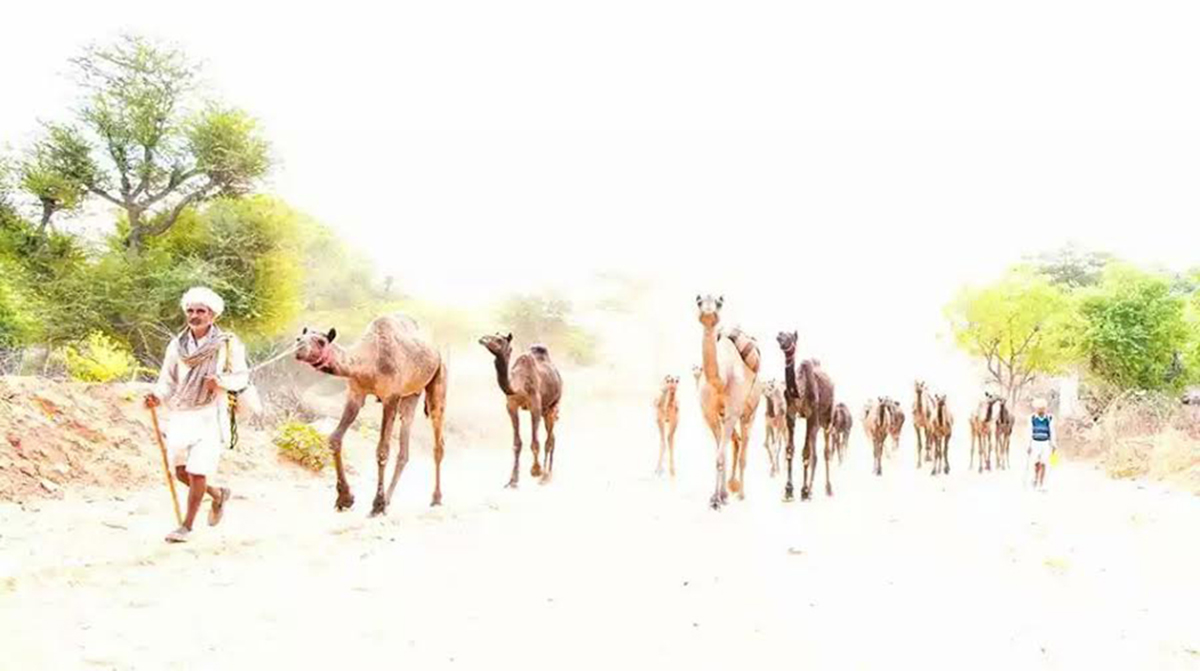 Top tips to get the best out of your photography at the Pushkar Camel Fair
The first thing that comes to mind when you enter the Pushkar Camel Fair is the scale of the Camel fair, the riot of colours and lastly the number of photographers around.
Here are some tips that would help you get the best of Pushkar.
1. Plan your trip to reach the venue at least 2-3 days before the Pushkar Camel Fair officially starts. The photographers would have all arrived but the masses of the local people and shops would not be there. Walk around and see the best places for sunrise and sunset.
2. During the days prior to the fair starting, the action won't be at the stadium but on roads and paths all around. The camel herders will be bringing in their herds of camels. This is one of the great quintessential Pushkar shots with dust flying and the camels marching in.
3. Don't start shooting the minute you land there – think and compose your shots. Do remember you will get lots of photo ops all through the day.
4. Smile and speak to the herders, don't treat them like just photography subjects as that would make a big difference to your photography. Speak to them, tell them what you are doing, and most people don't mind at all (although the changing culture now makes them ask for a little money).  Find a person that you find interesting and it's likely that your viewers will find them interesting too.
5. Identify the areas where you'll get the shot of your life. Some of the areas to explore include tea shops; place where camels and horses are tended; Water feeding stations give great reflections and locals retreating for the day to their makeshift shelters. Break the rules, shoot after dusk in the light of the fires that the herders light to prepare their evening meal. Don't forget the background – Placing a person in a setting helps tremendously. It gives us extra information about who they are, and it adds overall depth to the image, making it more interesting. Portraits with cluttered backgrounds distract from the person. Pay attention to light – Yes, this can be said about every single photograph and it's just as important in photographing people. Pay attention to the light, and particularly how it adds detail and directs the viewers eye. Catch-light in a persons eyes is vital to a photograph feeling alive
6. If you are a novice but a passionate photography enthusiast, enrol in a photography tour especially conducted during Pushkar Fair by various photo teams. It is very important to have the right company and with people who are just as passionate about photography, hence they would be no issues waking up early or shooting late into the evening.
7. Be careful around the camels – they tend to spit and kick.
8. Once the fair is officially opened the action shifts to the Stadium with folk dances, camel and horse performances, football matches and races. Make sure to come a little early to get a good seat and vantage point.
9. Photo Ideas: Long shadows, low sun, subjects with turban & moustache, silhouettes, smoke rising from campfires, women shopping in colourful traditional clothes. Shoot at eye level – The most neutral place to be when photographing people is at eye level. Shooting from below can make someone appear grand, and shooting from above can also change the storyline. Most of the time I like to shoot portraits around eye level.
10. Dust is the biggest enemy of a camera. Protect your gear from dust. Carry and use cleaning material for your lenses.
11. Share your photographs! – Do you want to make people really happy? Do you want to get invited back to photograph them again? Well, you can do a lot of good by giving people a print of the photograph you took. You'll be remembered and the people proudly show off photos that a photographer gave them years before. They still remember those people, and they'll gladly welcome them back.
12. Look for directional light: Street photography becomes hugely rewarding when you are playing with directional light, which helps add more depth and character to your images. Usually for couple hours after sunrise and an hour or so before sunset, you get such beautiful light.
13. Gear matters: While there are plenty of photographers out there who will tell you that gear does not matters and you can work around limitation of your gear. Fact of the matter is, good quality lenses and bodies come in handy when shooting in situations where you cannot control lighting conditions as often you will be shooting in very high ISO's.
14. Photograph a story. We all photograph the posed pictures in front of the camels. But how do we transform our photos into a narrative of our journey? Sit down and bond with the people for a few minutes to make sure they are comfortable with you. Invest time in the people you are photographing – show more respect to the camel herder and it elevates the image from being just a snapshot to an image with a real story. Recently I was photographing a young girl named Lekha at the Pushkar Camel Fair. I spent a couple of days photographing her and speaking to her. There were hundreds of other photographers who were only looking at her through their lenses. Lekha would say that it made her feel like an animal – no one acknowledged her – or even said nameste or hello to her. For all those hundreds of photographers she was a prize who would give them great photographs.
15. Finally there are no rules – no correct shot – no correct lighting. Be yourself, experiment and create a style that is uniquely "you".